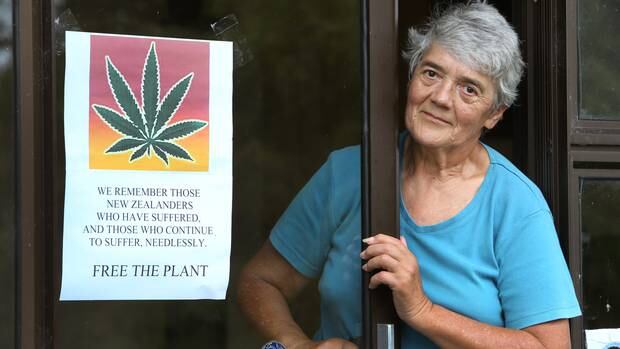 A Northland Grey Power leader and medicinal cannabis law advocate has welcomed a new poll showing the vast majority of Kiwis support her views.
Otamatea Grey Power member Beverley Aldridge has been campaigning for more than two years for people in extreme pain or terminally ill to be able to have easy access to medicinal cannabis. Since then some other Grey Power groups have joined the campaign.
And public support for cannabis law reform has soared in the past year – especially for medicinal use of cannabis, a poll commissioned by the New Zealand Drug Foundation has found. The Government is planning a referendum on personal use before or at the next election.
Support to decriminalise or legalise cannabis for the use of pain relief has increased from 78 per cent last year to 87 per cent this year in what has become an annual survey. Using cannabis for pain relief for terminal conditions has even higher support, at 89 per cent.
Support for personal possession is up to 67 per cent from 65 per cent and support for personal growing of cannabis is up to 61 per cent from 55 per cent. There is far less support for selling cannabis from a store, only 38 per cent, although that is up from 34 per cent last year.
Aldridge was really pleased that so many people support her views on medicinal cannabis for pain relief.
"I'm really impressed with the results. It shows there are many more people who are prepared to look at all the evidence and do their own research before making their own minds up, rather than just listen to the prohibitionist propaganda," she said.
"But I really can't understand how anybody could be against it after looking at all the evidence and it seems it's only people who have strong personal views that won't let the evidence out-sway those views."
Aldridge said it was ironic that the US, which initiated the Western World's cannabis, had now legalised or decriminalised the drug in many states.
She said it was just a matter of time before cannabis use was allowed here, but in the meantime many peopled were living with pain that could be eased by the drug.
"At the moment their alternative is opiates and they are highly addictive and cause as many problems as they solve. There are over 200 diseases and ailments that will benefit from cannabis use and it's cruel that people cannot access this plant that will help," Aldridge said.
"We (older people) are the group who will be the main beneficiaries when it is legalised and we are the ones living in unnecessary pain because of this."
Source: The Northern Advocate