A week out from the Budget, the nurse pay impasse panel has delivered confidential, interim recommendations and the nurses' union NZNO has made one last funding plea at Parliament.
The New Zealand Nurses Organisation said today that it has received a draft confidential report from the Independent Panel set up last month to try and resolve the impasse over pay and safe staffing between the 20 district health boards (DHBs) and NZNO without strike action.
Yesterday NZNO president Grant Brookes and Lizzy Kepa-Henry (deputising for co-president Kerri Nuku) led a delegation to Parliament that met with Finance Minister Grant Robertson and Health Minister Dr David Clark as well as, unexpectedly, Prime Minister Jacinda Ardern.
The NZNO delegation presented the ministers with 7000 letters from the public and members calling for sustainable funding for health gathered during its Shout Out for Heath campaign last year and made a last push for next week's Budget to also support the union's current #healthneedsnursing campaign to resolve the DHBs/NZNO pay impasse.
NZNO's DHB nurse, midwife and healthcare assistant members started voting on April 23 in a month-long secret ballot to decide whether to take two 24-hour strikes on July 5 and 12.
It is understood that the Independent Panel's draft report and interim recommendations were delivered on the evening of Tuesday May 8. NZNO said it was not commenting on the report beyond saying it was considering the interim recommendations and preparing for the 'next stage' which was to seek clarification from the panel on the draft recommendations and "possibly provide a further submission".
Nursing Review is seeking comment from a DHB spokesperson on what they considered the next stage would be. The panel chair Margaret Wilson said late last month that it hoped to have its final recommendations – which would not be binding on either the DHBs or NZNO – to both parties by the middle of May.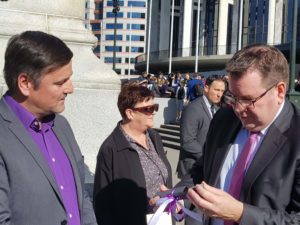 Meanwhile an NZNO spokesperson said the fact that both Robertson and Clark agreed to meet them just a week out from the Budget was viewed as a sign that the Government was listening to nurses' concerns. That the Prime Minister had also chosen to come and greet them – and was ready to sign the NZNO's Open Letter – was also seen as a 'strong signal'.
Health Minister David Clark, speaking about the meeting today, said the Government was committed to a strong public health service and making sure it had sustainable funding for nurses – who were a "vital part" and did an "amazing job" – and other health workers were a "key part of that".  Asked whether the meeting was a "strong signal" to nurses that the Budget would address NZNO's funding and pay impasse concerns, he said he couldn't talk about the upcoming Budget or the ongoing pay negotiations "at this stage".
NZNO also presented the two ministers with pens engraved with "Health needs nursing" to help them put the finishing touches to the Budget, which is being delivered on May 17.