Kim Gosman, a founding member of the National Council of Māori Nurses, who for decades has combined volunteer work with her professional career, has been honoured as Minister of Health Volunteer of the Year.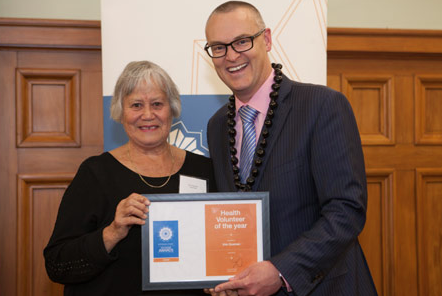 She was honoured at the 2018 Minister of Health Volunteer award ceremony at Parliament on June 18 alongside Pacific nurse Sonya Apa Temata, who won the Pacific Health Volunteer Individual award for her work both here and across the Pacific, and wound care nurse consultant Pam Mitchell, a longstanding member of the New Zealand Wound Care Society, who was a runner-up in the Long Service awards.
Gosman who was born in 1936 of Ngā Puhi, Ngāti Kahungunu ki Wairoa and Ngāti Tautahi descent, has been doing volunteer work since 1974. She trained as a registered nurse in Wellington Hospital in the mid-1950s and later trained as a registered midwife and Plunket nurse. Now in her 80s, the foundation member of Te Kaunihera Neehi Māori o Aotearoa (The National Council of Māori Nurses) and inaugural vice-president of the College of Nurses Aotearoa continues her volunteer work, including posts on a number of iwi/ Māori councils and as a board member of the Rural General Practice Network.
Health Minister Dr David Clark said the judges were impressed by the depth and range of Gosman's volunteering work over 44 years and the impact it has had on improving Māori health outcomes in particular.
"I would like to thank Kim for her contribution to the health and wellbeing of others. Her commitment at a strategic level and to training and mentoring new staff has enabled the expansion of frontline health services and improved health accessibility for Māori in the Lakes District Health Board region," he said.
Her volunteer work began in the 1970s and later as a foundation tutor at Whitireia's School of Nursing in the 1980s, she began undertaking papers in Māori Studies and learned te reo Māori. She also stepped up her volunteer work in firstly Porirua and later Turangi, where she was the inaugural managing director and chief executive of Tuwharetoa Health Services.
Gosman's voluntary work has included maternity services and marae-based ear health clinics, and extended and improved the development of a wide range of health services. She is described by Lakes District Health Board as being a champion of improving Māori health outcomes and reducing inequalities.
Clark presented the Minister of Health Volunteer Awards in Parliament yesterday to mark National Volunteer Week and congratulated all those recognised as outstanding achievers.
Pacific nurse Sonya Apa Temata won her award for her exceptional work to improve health outcomes for Pacific patients and their families, both in New Zealand and in the Pacific. As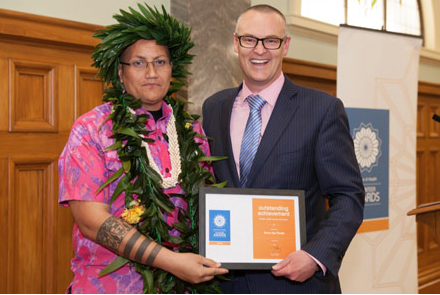 a volunteer, she drew on her nursing background, which includes cardio-thoracic surgery, district nursing, sexual health and adult sexual assault services. As well as being a proactive member of a number of boards and advisory groups, she volunteers in communities and universities to ensure a Pacific perspective is reflected in the delivery of  health services. This year she has volunteered as part of the Fiji of Friends Foundation Cardiac Missionary team in Samoa and Fiji, and in the Cook Islands. She also gives a lot of her time to the LGQTBI Rainbow space for Takataapui, Pasifika Rainbow.
The work of Pam Mitchell, a Christchurch wound care clinical nurse consultant, particularly her work as a recognised leader in pressure injuries, was honoured with a long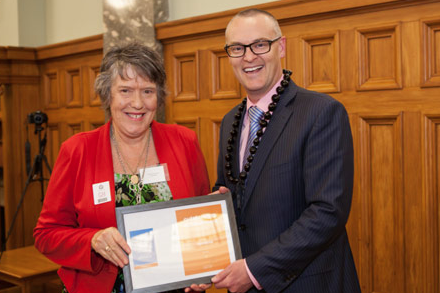 service award. Mitchell has been an active member of the New Zealand Wound Care Society for over 19 years, at times holding executive positions. She has represented the New Zealand Wound Care Society nationally and internationally, including work on developing pressure injury guidelines. She has been involved with national initiatives to improve clinical outcomes across New Zealand, collaborating with ACC, the Ministry of Health and the Health Quality and Safety Commission. She is also on the organising committee for the New Zealand Stop Pressure Injury Day.
Health Volunteer of the Year Award
Winner – Kim Gosman, Turangi
Māori Health Volunteer Individual Awards
Winner – Kim Gosman, Turangi
Runner-up – Jean Te Huia, volunteer CEO for Nga Maia o Aotearoa Māori Midwives.
Pacific Health Volunteer Individual Awards
Winner – Sonya Apa Temata, Pacific nurse
Long Service Awards
Runner-up – Pam Mitchell, wound care nurse consultant and member of NZ Wound Care Society
See the full list of winners and runner-ups at the close of this here.