While umbrellas were the order of the day in marches in much of the top of the country, it didn't stop thousands of nurses from taking to the streets nationwide to back their call for safer working conditions for all nurses.
Brought together by the 'Nurse Florence' #hearourvoices social media movement, nurses donned paper caps, hired red capes and created banners and placards and put on their special t-shirts. The mood was often festive, but the placard messages were sobering and direct: "These cuts won't heal", "Patient safety can't wait" and "Fighting for life".
Hundreds of Christchurch nurses and supporters rallied near Christchurch Hospital before marching on a fine autumnal day along past the Botanical Gardens and down Worcester Street to the quake-damaged Cathedral Square while calling for safer staffing and fair pay.
On arriving, leader Cheryl Hanham thanked the 'Nurse Florences' for helping nurses find their voice again and read the message that the two founders of the movement wrote for delivering at the 15 marches and rallies being held today.
The message said the marches were a response to nurses working too long in unsafe, understaffed environments that put them and their patients at risk. It went on to say that for too long nurses have been silent as they risked breaking patient confidentiality if they spoke out about understaffed wards and being assaulted by patients. "The current health system with its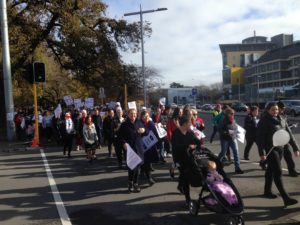 chronic understaffing forces nurses to view patients as a checklist," the pair said. They said nurses, the public and patients had shared many "heart-breaking to gut-wrenching" stories with them, leading to the march, where nurses and the public were ready to stand united for the future of health care and their patients.
The Nurse Florences expressed frustration that the movement's attempts to contact the Government, district health boards leaders and politicians had gone unheeded. They said the current stalled negotiations between the New Zealand Nurses Organisation and DHBs should not be used as an excuse as the issues were bigger than just the district health boards, with nurses in other sectors also facing similar issues of understaffing and inadequate pay.
The pair called on MPs to think about what kind of nurse they wanted to look after their families: under-resourced and burnt out or well-supported with manageable patient loads?
Following the message, the marchers were addressed briefly by Labour's Christchurch East MP Poto Williams, who said she was there to hear the nurses' challenges. She said that while health is an absolute priority for the Government, it now needed to prove this with the first steps towards it being
the May 17 Budget. "We want to honour you in this Budget," she told nurses, adding that she heard that the call was about more than pay and was also about nurses working double shifts, being called back and having safety concerns.
The Christchurch rally was also read several nurse-written poems and a message from a nurses' parents. A brother of one of the organisers told the gathering that he was marching for the right of nurses to be safe from abuse and assault and his dismay at seeing his sister Lani Collins return to the work environment after suffering an injury requiring surgery.
Collins and her organising team supporters Erica Donovan and Jacqui Bennetts were delighted with the turnout on a day that started threatening rain but ended up fine. Bennetts, a hospital nurse since 2005, said over nine years in the same ward she has watched her patients become older and more unwell, with more co-morbidities so they need more care. "But we're being asked to do more with less." She said her "beef" was not with the district health board, which had the same core purpose and goal of providing good care, but with those who decide the funding levels for the health system.

Meanwhile the Nurse Florence petition addressing safe staffing issues, which is to be delivered to Prime Minister Jacinda Ardern, was close to 33,000 signatures early on the evening of May 12.